A warm welcome to our homepage!

On the following pages we are very pleased to present you our comprehensive service in the Italian real estate sector, with a focus on the Central Italian region of "Le Marche". , as well as in other selected regions of Italy.
We are offering competent services in the following areas: :
Real Estate Offers and Building Service: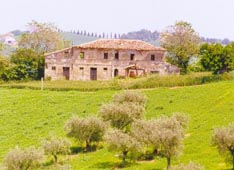 We can offer you about 200 personally selected, dreamlike real estate objects of all categories, such as rustic farmhouses to be renovated, inhabitable country houses and villas, or even activities such as bed and breakfast. Thus, we are able to fulfill nearly any real estate request.

The individual care of our customers is carried out by an experienced multilingual team (real estate agent, architect, geometra, house-guide, etc.), which competently accompanies you.

Furthermore we offer you of course the best general services before and also after the purchase (from translation assistance to property management), as well as the complete support during reconstruction, renovation work, support with authorities etc..

We are successful in the real estate and construction business for more than 25 years now and are specialized in real estate in Italy since 1997, with approval as a real estate agency.

If you are the owner of a property in Italy and would like to sell it, please let us know. We will gladly take over the necessary steps for you, from advertising until to the notary deed - we look forward to your contact!
Our contact address:
La casa mia!
Tatjana Gossmann – real estate

Auf dem Lerchenbühl 23
96049 Bamberg
Germany
Tel.: 0049-(0)176-52008466
0039-338-4809396
e-mail:info@lacasamia.eu
Approval according to § 34c Gewerbeordnung (GewO)
by the supervisory authority:
City of Bamberg - Ordnungsamt, 96047 Bamberg
Tax number: 207/265/30050
---
"Le Marche" region – where Italy is still Italian !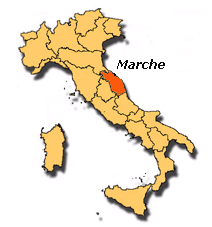 Our region "Le Marche" is one of the best-kept secrets among Italian holiday areas.
The fact that it is undisputedly one of the most beautiful and varies parts of Italy, which has, though, not been overcrowded by tourists, makes it so interesting and almost incomparable. Le Marche and their people have remained "native" and in the positive sense of the word, "Italian". A region where you feel good.
In contrast to its better known neighbouring regions, which are very similar scenically ("the sister of Tuscany"), a very good price/benefit ratio presents itself in all areas of daily life, even in the acquisition of real estate.
Why are an ever-growing number of like-minded people being drawn to this beautiful part of central Italy?
Le Marche region (especially both "our" provinces of Pesaro/Urbino and Ancona) combines everything that we ideally imagine about the "sunny South":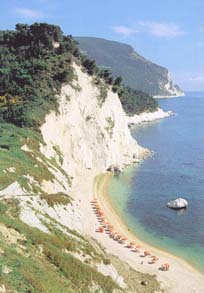 - Mild Mediterranean climate with an outrageously large amount of sun the whole year round.
- The clean sea with dreamlike sandy beaches, but also steep coasts with romantic bays, as well as typical fishing and yachting ports.
- Wonderful and above all diverse scenery; i.e. the special feature is the close proximity of both sea and mountains. Between the coastal strips and the high mountains of the Apennines, the so typical lovely hilly landscape stretches with its countless charming medieval small towns, (e.g. Cartoceto, Orciano, Barchi, Mondavio, Corinaldo, Ostra, Montecarotto, Cupramontana…) from whose impressive defensive walls we can enjoy a fantastic view over the free countryside, often out to sea.

In the "Marche" one can still find unadulterated nature and much peace.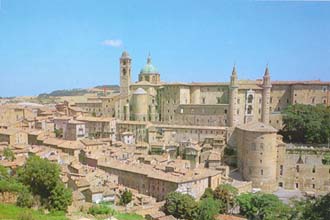 - A plentiful supply of art and culture; e.g. the breathtakingly beautiful mediaeval university city of Urbino (the birthplace of Raphael), the charming old Roman seaside city of Pesaro (birthplace of Rossini), Fano, Senigallia and Ancona with their museums, historical buildings, galleries, theatres, opera houses, concerts, open-air festivals, antique markets, in addition to countless typical little fortresses with their medieval tournaments, processions, firework displays and culinary specialties – combined with a lot of Italian flair.
It would also be worth your while to visit the neighborhood of other art centres further inland, such as Perugia, Gubbio, Assisi, Arezzo, Firenze, Bologna, Ravenna etc.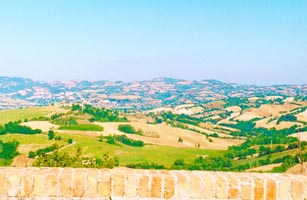 - Of course, the cities of "Marche" also provide the best shopping opportunities, all touristy comforts, good infrastructure etc., nevertheless, these features don't ever cause the area to be overcrowded and the cities have in their way remained agreeably contemplative and pristine.
The quality of life in "Marche" is, as everyone knows, very high.
- The varied Mediterranean cuisine, (from fresh fish to truffles), which is still primitive and authentic, together with the outstanding regional red and white wines, can still be enjoyed at really favourable prices.
- Hearty Italian hospitality combines in the "Marchigiani" with an honest native originality, which makes an impression on every visitor. You simply feel good here immediately and not that you are being treated like a paying tourist.
For further information about the "Marche" region (e.g. literature, maps, overnight accommodation possibilities, tips on staying in the locality etc.) you can apply to us any time.